200 Students in Ajman complete English Live Program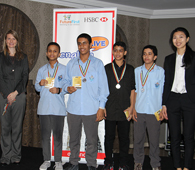 A graduation for 200 preteen students of the English Live program was hosted at the Kempinski Hotel Ajman. English Live is a year-long training program which was run by Action Care for youth at the National Charity School Ajman to help improve their practical English language skills. HSBC CSR manager Dominique Ghazar attended the ceremony and shared her own relevant story of overcoming language learning challenges. Students performed national dances and other songs, gave speeches in English and received their certificates, competition prizes and refreshments.
The MOVE program gives us ideas about our future. We learned how to make CVs and list our key skills, languages and experience, and how to be confident at job interviews. The trainers inspired us to try — to study hard and work and we can be professionals.
Ali, student and MOVE program participant