200 Students in Ajman complete English Live Program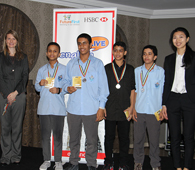 A graduation for 200 preteen students of the English Live program was hosted at the Kempinski Hotel Ajman. English Live is a year-long training program which was run by Action Care for youth at the National Charity School Ajman to help improve their practical English language skills. HSBC CSR manager Dominique Ghazar attended the ceremony and shared her own relevant story of overcoming language learning challenges. Students performed national dances and other songs, gave speeches in English and received their certificates, competition prizes and refreshments.
Volunteering with [one of Action Care's training programs] was a very unique experience. It was nice to see the shy but happy children opening up slowly to new things, games, people, language and crossing cultural barriers quickly.
Sunanda Pohekar